COUNSELLING WITH
BERNADETTE SOARES
BECOME THE EXPERT OF YOUR LIFE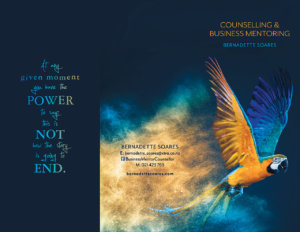 We often look to others as experts and want to follow them or emulate what they do. While there is a place for this and it is good to learn and gain the knowledge that someone else has painstakingly acquired, there is also a point in your life when you decide to take charge and become the expert of your life that you know you can and should be. You can put all your experiences and learning in your life to practice right now and start making the necessary changes to move towards being the expert of your life. You are the only one who can do it and if you don't make that decision to do it now you will only go around and around those mountains in your life again and again.
So are you sick of going around and around the mountain? Are you going to commit yourself to making the necessary changes? Do you need that extra motivation from someone who is trained and understands where you are at and enjoys the journey of motivating and empowering others? Then contact me and get a free 30-minute consultation to determine if this is for you. I can mentor you on an individual bi-monthly basis or an individual 6-monthly plan to help you on your journey to achieve your goals and get you dreaming again to becoming the person that you want to be.
I have been a Business Mentor with the Auckland Chamber of Commerce (in New Zealand) to provide start-up and emerging businesses support and guidance in their journey over the last five years.
I founded the Let Your Light Shine Charitable Trust and over the last four years have been working closely with businesses, councils and local organisations to generate new business ideas and work alongside start-ups to achieve their potential through training, mentoring and support.
I have trained as a Narrative Counsellor to better serve my business clients. I had come across many clients who were battling with personal and relationship issues which were impeding their life journey. I am in the process of registering as a provisional member of the New Zealand  Association of Counsellors (NZAC). I am bound by their professional code of ethics.
The Narrative counselling approach is a respectful, non-blaming approach to counselling and community work which centres people as the experts in their own lives. It views problems as separate from people and assumes people have many skills, competencies, beliefs, values, commitments and abilities that will assist them to reduce the influence of problems in their lives.
Talking through the issues that concern you can bring new insights and open up new opportunities or new perspectives.
My approach involves listening,  hearing, enquiring in a non-judgmental manner and providing a reflective way of exploring your situation. My intent is to skillfully listen and to encourage you in your journey. I can also assist you to find other agencies for support if required.
If you are wanting to become the expert of your life then contact me and I we can arrange an appointment. If you are living out of Auckland then a Skype meeting can be arranged. For clients who commit to my six-monthly plan, you will get a free copy of my book, Outrageous Living, A Daily Guide to a Life Without Limits.
Here are some questions we will explore together:
What has your story been, and where has your life's journey led you so far?

Where do you want to go, or plan on going?

What have been some of the impediments in your life, actual and those in your mind?

How committed and motivated are you to embark on this journey and restore your life to where you want it to be?

What are your talents and skills and how do they fit into your overall life's purpose?

What are some of the areas that you could upskill and increase your knowledge?

Who are some of the people that will be effected by the changes in your life, and who are some of the people that could possibly help you on this part of your life's journey?